Post Top Fitters, Bases, Sleeves and Finials
Lead time on these items is 7 to 10 days
There is 30% restocking charge on standard items.
Items that have custom openings are NOT RETURNABLE.
*Shipping IS NOT included in prices.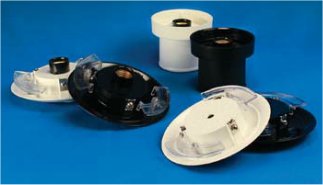 Post Top Fitters are designed for use with commercial
and residential post top applications
Polycarbonate - UV Stabilized with continuous operating temperature
of 100°C with 125°C and high impact resistance down to -40°C.
Polycarbonate post top fitter
•

P

henolic

-I

ncandescent socket
• fits a standard 3" post
• accepts most enclosures with a
5.25" neckless opening

Color

Part #

Price

1-10

10 +

Black
99-S071-BLK

$10.50

$9.50
White
99-S071-WHT

$10.50

$9.50

Polycarbonate post top fitter
•

P

henolic

-I

ncandescent socket
• fits a standard 3" post
• accepts most enclosures with a
4" twist locking neck
Black
99-S048-BLK

$10.50

$9.50
White
99-S048-WHT

$10.50

$9.50
Polycarbonate post top fitter
• fits a standard 3" post
• 7/16" diameter center hole
• fits 1/8" IPS adaptor
• accepts most enclosures with a
5.25" neckless opening6
Black
99-S072-BLK

$10.50

$9.50
White
99-S072-WHT

$10.50

$9.50

Decorative base
• fits a standard 3" post
•

Polyethylene

Black
89000-BLK

$34.00

$32.00
White
89000-WHT

$34.00

$32.00

Decorative fluted cover
• fits a standard 3" post
• 10 foot lengths
•

Polyethylene

Black
89010-BLK

$27.00

$25.00
White
89010-WHT

$27.00

$25.00
Plastic finial
• supplied with 1/4-20 x 1 1/4"
stainless steel slotted hex head screw
Black
99-FINIAL-BLK

$7.00

$6.00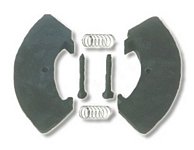 99-S071-TAB-KIT $6.50
Kit includes:
2 Clear Plastic Wings
(flaps that hold globe down)
2 Springs
2 Screws